OVERVIEW
Laminated glass is an industry transformer because it's capable of providing durability, high-performance and multi-functional benefits such as safety, security, sound control, solar energy performance, and ultraviolet screening, as well as hurricane and blast resistance, while simultaneously preserving the aesthetic of the glass.
Our consistent improvements have led us to surpass industry quality standards and has made laminated glass our company's distinguishing product. We are the preferred supplier of laminated glass for high-rise construction in South Florida, where we have prevailed despite its strict building codes. We are certified by the Safety Glazing Certification Council and PVB fabricators to provide all types of hurricane-resistant glass (large missile or small missile).
Our laminating lines are in assembling rooms with controlled environments. Our equipment allows us to ensure that temperature and humidity levels are kept within the interlayer manufacturers' standards, providing the optimal conditions for achieving high-performing products. These conditions, in combination with a washing process that uses de-mineralized water, warrants the adherence, performance, and long life of our laminated glasses. Laminated glass can be manufactured with several coats of laminated sheets of up to 4 inches in thickness and sizes up to 130" by 236".
APPLICATIONS
Laminated glass is the ideal solution for any safety glazing application, including: homes and other buildings in hurricane regions; shopping malls; museums; government buildings; jewelry stores; banks; airports; schools; hospitals; hotels; interior partitions; and office buildings.
Tecnoglass' laminated glass is available in various combinations for commercial glazing applications. This glass can feature high-performance coatings, silk-screened patterns, holes, notches and edgeworks. It can be specified in different colors in order to meet a wide variety of design options as well as various performance levels.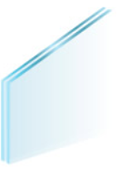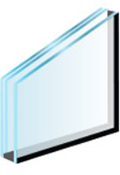 COMPONENTS
When specifying laminated glass, it is important to select and clearly outline the configuration as well as each individual component of the insulating glass unit.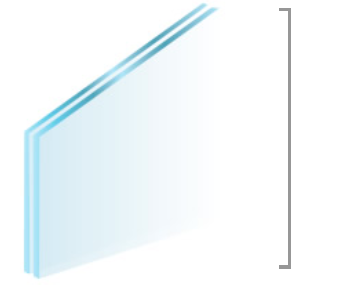 GLASS SUBSTRATES
GLASS HEAT TREATMENT
COATING
INTERLAYER
Disclaimer – The information contained herein is exclusive property of Tecnoglass, who reserves the right to modify it, including but not limited to the designs and its specifications, without notice.