A new tempered glass standard
At Tecnoglass we have raised the bar becoming the first glass manufacturer in the Americas to deliver fully tempered glass with exceptionally low levels, almost free, of anisotropy by offering UltraVIEW by Tecnoglass; architectural glass with the highest clarity.
Excellent tempering values with air cushion technology
UltraVIEW is fabricated through a gentle tempering process with the most advanced air cushion technology, where there is no contact with the surfaces of the glass panes as it uses ceramic air cushion instead of rollers, which leads to an even energy transfer into the glass.
This technology is ideal to manufacture architectural glass with a new level of clarity and flatness; ideal for high end architectural applications.
A new technology that ensures a safety glass almost free of anisotropy
As it's shown in the image below, a traditional furnace introduces energy into the glass through three different ways: radiation, forced convection and conduction. These three types of energy-transfer slightly impact the glass heat distribution, leading to an increase in anisotropy.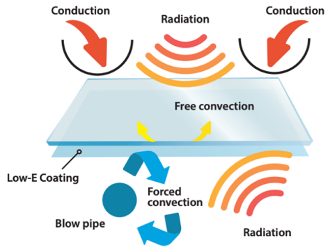 With our new air cushion technology, we impact on forced convection and defect heating or radiation; having no contact with the rollers by using pressured air flow allow us to minimize anisotropy levels and reduce the retention time in the furnace and manufacture tempered glass almost free of anisotropy.
Currently, there are no international standards that classify the permissible anisotropy levels, nevertheless UltraVIEW by Tecnoglass, guarantees that excellent values above 95% can be obtained. We provide our clients with the best products for the most demanding projects.
UltraVIEW Specifications