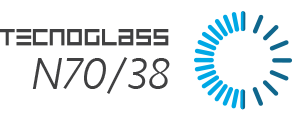 N70/38 Solar Control Low-E Glass for summer and winter.
Tecnoglass N70/38 was developed to enhance Solar Control Low-E giving new architectural projects the energy saving benefits of Low-E glass anytime of the year. Now you can have the perfect balance for controlling heat transfer during the summer, but also preserving inside a portion of heat during the winter, thus controlling overall energy costs of temperature conditioning and lighting. A winter U Value of .29 and a summer U-Value of .27 are the perfect combination for controlling heat loss in the winter and heat transfer in the summer.
Whether you're looking for a product that has solar control to help you achieve LEED points or to protect artwork or flooring, N70/38 is the right option.
This high-performance glass can be combined with both silk screen patterns and laminated glass.
Tecnoglass N70/38 clear glass can achieve a SHGC as low as .39 blocking on average 66% of the total solar energy while allowing between 70% of the visible light to pass through. Using the combination of N70/38 and a tinted glass can reduce solar heat gain down to as low as a SHGC of .13 and produces an excellent Light to Solar Gain ratio as high as 1.79 (LSG).
Tecnoglass N70/38 glass can be coated on Starphire® glass and paired with Starphire® glass or with other ultra-clear glasses to produce an IGU with exceptional clarity and solar control characteristics. For even more color and performance options, it can be coated on the second (#2) surface of nearly all Vitro's wide range of tinted glasses or combined in an IGU with any Vitro tinted glass, Solarcool® reflective glass or Vistacool® subtly reflective, color-enhanced glass.
The environmental and financial benefits of Low-E glass are the driving force behind today's commercial market. Contact us to learn more.
1″ N70/38 PERFORMANCE LAMINATED GLASS        1/4″ (6mm)/ 1/2″ (12,7 mm) a.s./ 1/4″ (6mm)
Product
N70/38 (2) Clear + Clear
N70/38 (2) Low Iron + Clear
N70/38 (2) Atlantica + Clear
N70/38 (2) Azuria + Clear
N70/38 (2) Pacifica + Clear
N70/38 (2) Solarblue + Clear
N70/38 (2) Bronze + Clear
N70/38 (2) Gray  + Clear
N70/38 (2) Solex + Clear
N70/38 (2) Vistacool (3) Azuria + Clear
N70/38 (2) Vistacool (3) Pacifica + Clear
N70/38 (2) Vistacool (3) Gray + Clear
N70/38 (3) Atlantica  + Clear
N70/38 (3) Azuria  + Clear
N70/38 (3) Pacifica  + Clear
N70/38 (3) Solarblue  + Clear
N70/38 (3) Bronze  + Clear
N70/38 (3) Gray  + Clear
N70/38 (3) Solex  + Clear
Vistacool (2) Azuria + N70/38 (3) + Clear
Vistacool (2) Pacifica + N70/38 (3) + Clear
Vistacool (2) Gray + N70/38 (3) + Clear
Visible
Solar
U-Values
Shadiing
Coefficient(SC)
Solar Heat Gain
Coefficient (SHGC)
Light to Solar
Gain(LSG)
Download
Trans.
Refle. Ext
Refl. Int
Trans.
Refle. Ext
Winter
Summer
72%
9%
10%
33%
28%
0.95
0.86
0.52
0.45
1.6
PDF
74%
9%
10%
35%
40%
0.95
0.86
0.49
0.43
1.72
PDF
55%
8%
7%
20%
7%
0.95
0.86
0.51
0.44
1.25
PDF
56%
7%
9%
20%
6%
0.95
0.86
0.51
0.45
1.24
PDF
35%
6%
8%
15%
6%
0.95
0,86
0.47
0.41
0.85
PDF
46%
6%
8%
21%
12%
0.95
0.86
0.49
0.43
1.07
PDF
43%
6%
8%
20%
15%
0.95
0.86
0.48
0.41
1.05
PDF
36%
6%
8%
17%
12%
0.95
0.86
0.47
0.41
0.88
PDF
63%
8%
9%
25%
10%
0.95
0.86
0.53
0.46
1.37
PDF
43%
14%
32%
17%
10%
0.29
0.27
0.28
0.25
1.72
PDF
26%
9%
31%
12%
8%
0.29
0.27
0.23
0.20
1.30
PDF
27%
9%
31%
12%
14%
0.29
0.27
0.25
0.22
1.23
PDF
53%
8%
10%
20%
7%
0.29
0.27
0.35
0.31
1.71
PDF
54%
9%
9%
21%
7%
0.32
0.28
0.35
0.31
1.74
PDF
34%
6%
9%
15%
7%
0.29
0.27
0.29
0.25
1.36
PDF
45%
8%
8%
21%
10%
0.32
0.28
0.39
0.34
1.32
PDF
42%
7%
9%
21%
16%
0.29
0.27
0.37
0.32
1.31
PDF
35%
7%
9%
18%
13%
0.29
0.27
0.23
0.29
1.21
PDF
61%
10%
10%
25%
11%
1.65
1.55
0.42
0.37
1.65
PDF
38%
22%
28%
14%
11%
0.22
0.22
0.27
0.23
1.65
PDF
24%
11%
27%
10%
9%
0.22
0.22
0.22
0.19
1.26
PDF
25%
12%
28%
13%
15%
0.22
0.22
0.25
0.22
1.13
PDF
Scroll horizontally